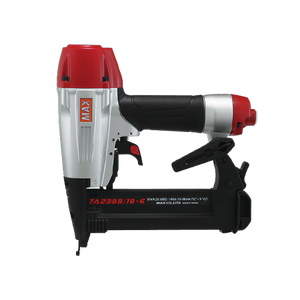 The safety equipped MAX TA238B/18-16 is an extremely lightweight professional grade pneumatic narrow crown stapler. The TA238B/18-16 can be used for installing door and window casings, panel assembly and moldings, sub flooring, cabinet assembly, plywood decorative boards and other interior finish work, furniture assembly, case back fastening, and blind pinning. A depth adjustment dial allows contractors to select the appropriate depth of drive to achieve an accurate embedment depth. MAX is committed to manufacturing reliable tools that have been designed to deliver enhanced performance while making sure that users can carry out safe operations.
FEATURES
DURABLE THREADED STYLE DRIVER BLADE
Unlike competitors, MAX finish nailer has a threaded-in driver blade which makes the tool last 4 times longer than pin style driver blade.
LIGHTWEIGHT AND COMPACT
At 2.7lbs this ultra slim tool allows the contractor to easily reach into tight spots with minimal effort. Engineered to reduce strain on the body.
DUAL FIRING MODES
A switchable fire mechanism allow the tool to be used in either contact or single fire mode. Switch between the two options with the simple switch of a lever.
LOW NAIL INDICATOR
A nail indicator on the magazine alerts you on when it's time to reload nails.
NO PUNCTURE MARKS
A no-mar contact tip allows contractors to complete a project with a clean and finished look. The rubber tip protects the tool from making dings and punctures on the materials.
STURDY BELT HOOK
You can count on this integrated belt hook for safe placement or hanging of tool when it's not in use.