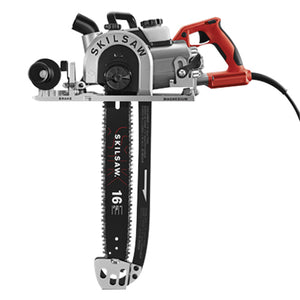 Make impossible cuts, possible. Backed by legendary Worm Drive gearing, the 16 In. SAWSQUATCH™ Carpentry Chainsaw combines power and durability for extraordinary productivity. Our 15 AMP Dual-Field™ motor keeps cool on the job, letting you tackle even the most difficult jobs. The full house chain provides precision, giving you cleaner, accurate cuts in a fraction of the time. Featuring magnesium built construction, this chainsaw delivers a lightweight design – allowing for maximum control and efficient handling. The impossible is possible with SKILSAW®.
Features
Worm Drive delivers the relentless power and trusted durability needed to get the job done
14-1/4 in. depth of cut powers through deep material in one pass
Self-lubricating, full-house chain with tool-less tensioning provides high quality cuts
15 AMP Dual-Field™ motor stays cooler, increasing longevity and work efficiency
All magnesium construction for durability and reduced weight
Specifications
Blade Size: 

16"

Dimensions: Width 7" (177.8 mm), Depth 28" (711.2 mm), Height 25.5" (647.7 mm)

Cord Length: 10 ft.
Height: 20"
Weight: 18 lbs.
Includes
SPT55 16 In. Worm Drive SAWSQUATCH™ Carpentry Chainsaw, SKILSAW 56T Full House Chain, 16 In. Guide Bar, Auxiliary Handle, Saw Stand, Chain Sheath