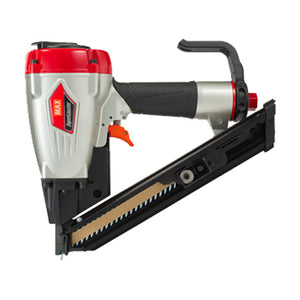 Engineered to be just as precise as it is powerful is the nature of the safety equipped SuperLocator SN438J. This metal connector nailer is ideal for strapping, fastening joist hangers, seismic and hurricane ties, rafter ties, post bases, caps, foundation anchors and other metal framing hardware. Our high performance driver blade is 1.7x more durable than your standard metal connector nailer that you may buy anywhere else, ensuring that your connectors secure each and every time. MAX is committed to manufacturing reliable tools that have been designed to deliver enhanced performance while making sure that users can carry out safe operations.
FEATURES
PROTECTION AGAINST DOUBLE FIRES
An anti-double fire nose has an extruded metal tip that prevents a 2nd nail from accidentally being shot when the 1st nail is firmly pressed against the wood surface.
NO OBSTRUCTION TO VISBILITY WHEN PLACING FASTENERS INTO CONNECTOR HOLES
The precision nose exposes the nail tip to allow the precise application of fasteners into the connectors.
HIGH PERFORMANCE DRIVER BLADE
A denser driver blade provides 1.7 times more durable than competitive driver blades.
PROTECT YOUR FACE FROM EXHAUST
The 360 degree rotating exhaust deflector allows users to safely divert exhaust air and fumes away from their face.