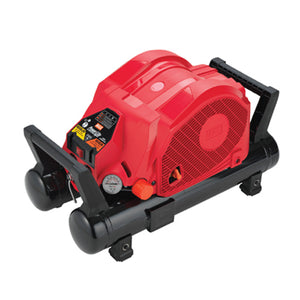 The MAX AKHL1260E is an ultra quiet, safety equipped dual tank lightweight air compressor. The AKHL1260E is able to compress air up to 500psi. This compressor can operate in low voltage scenarios. MAX is committed to manufacturing reliable compressors that have been designed to deliver enhanced performance while making sure that users can carry out safe operations.
FEATURES
LIGHTWEIGHT AND COMPACT
At 35.4lbs. dual handled high pressure compressor can be transported with minimal effort and minimal fatigue on the body.
ULTRA QUIET
Built with DC Brushless Motor that is more powerful, quieter and lighter than conventional motors.
AUTOMATIC SYSTEM ADJUSTMENTS FOR MAXIMUM PERFORMANCE
An inverter circuit on the motor adjusts the RPM to extract the maximum performance depending on the voltage level.
USER FRIENDLY DIAGNOSTIC SYSTEM
LED light and beeping system that indicates problems with the compressor (i.e. high temperature or low voltage).
CONNECT UP TO 4 TOOLS AT ONCE
4 Air-outlets provide flexibility | 2 outlets for high pressure tools. 2 outlets for regular pressure tools.