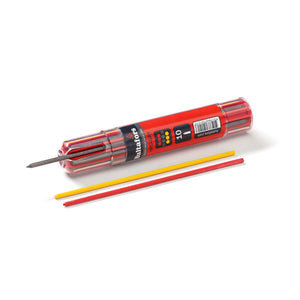 Smart container with 10 durable graphite leads for marking on all types of surfaces. Hultafors Refill can be attached with a clip in the pocket or tool bag. The design of the container protects the leads during transport and only ejects one lead at a time. An alternative refill (HU-650110) has 10 graphite leads.
Refill fits the Hultafors Dry-Marker (HU-650100).
10 refills for Hultafors Dry Marker (4 graphite, 6 color chalk), in smart container.