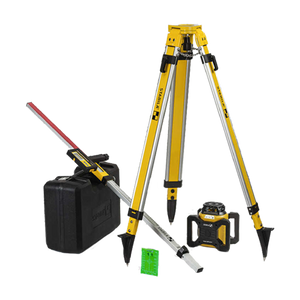 Are you tasked with horizontal and vertical levelling for major interior construction projects? Do you need to work precisely and avoid costly measurement errors and rework? Then the STABILA LAR 160 G with green laser beams is the right rotation laser for you. Quick to set up and easy to operate, the laser really comes into its own when used over large distances and linked to a receiver. All in all, it is a high-quality product that delivers precise results.
High-performance receiver – large working area of up to 600 m in diameter.
BENEFITS
Fully automatic, motor-driven rotation laser – high levelling accuracy of ± 0.1 mm/m, fast self-levelling function within 20 seconds.

STABILA GREENBEAM technology for improved visibility of the rotating laser beam – green laser beams are four times more visible to the human eye than red beams.

Four laser functions for versatile use – horizontal and vertical rotation, plumb-line function and right angle (90°) in vertical operation.

Protection class IP 65 – dustproof and waterproof.

Shock-absorbent STABILA soft grip casing provides protection against impacts – the stable housing cover also protects the laser optics.

Easy to use via three control buttons – on/off, tilt mode, manual mode.

Battery drawer – easy replacement, even directly on the tripod.

Large working area with REC 160 R/G set receiver – up to 600 m in diameter.

Two 5/8" threads integrated in the housing.

Target plate with magnetic holder and cross-hair.

Stable carrying case.

Weatherproof – waterproof and dustproof in accordance with protection class IP 65.
INCLUDES
Target card

Receiver with clamp

Target plate

Manual & kit box


Tripod

Grade Rod
Application examples
For a wide range of tasks in drywall construction – for layout work, when positioning partition walls and suspending ceilings. Transfer heights quickly and easily in electrical installation work – align plug sockets, switches and cable ducts horizontally and vertically with one another. For installation work in industrial construction – measure planes and determine alignments for routing lines and pipes. In industrial assembly applications – measure and align shelving systems in logistics areas.
Technical data
Laser class: 2

Output: < 1 mW

Laser wavelength: 510 - 530 nm

Self-levelling range +/-5°

Levelling accuracy +/-0.10 mm/m

Diameter of working area for set receiver: 600 m

Operating life: 20 h

Battery type: D

Protection class: IP 65

Tripod connection: 5/8"